Salt Lake City artificial living walls from Greener Walls® enrich every vertical surface they inhabit. We provide our clients complete control over creating distinctive faux green walls with our artificial plants, flowers, leaves, and imitation ivies. Nature ultimately serves as the source of inspiration for our designs; however, the unique vision of our customers takes Greener Walls' designs to new heights. The natural movements and lifelike textures of our synthetic plant walls set us apart from the competition. Our products are intended to meet the demands of architects, designers, and homeowners who are unsure what to do with their empty wall spaces. Our vertical gardens mimic the lifelike movement of actual plants while requiring little-to-no maintenance.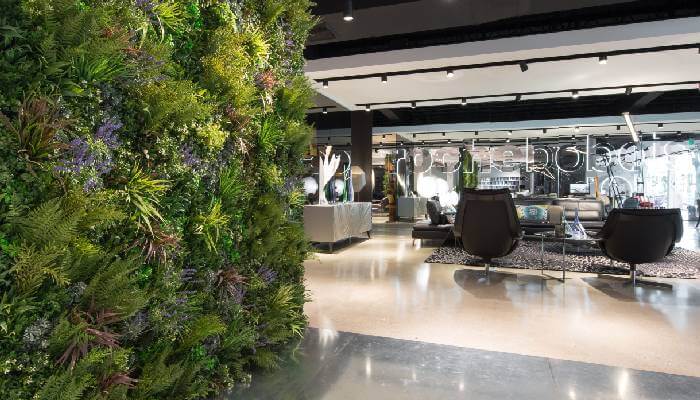 Salt Lake City VistaFolia® artificial living walls will not only reflect your unique personality but will also provide your property with a plethora of benefits.
Features & Benefits of Artificial Living Walls in Salt Lake City, UT
5-year warranty
8 different color and texture packs
Three-panel system for a natural appearance with no evident seam lines or repeating patterns
Customizable to accommodate complicated designs
Suitable for both indoor and outdoor settings
100% pure color pigments that never fade
Maintenance is virtually non-existent
UV-IFR technology prevents the hyper-realistic fake plants from fading in direct sunlight
Perfect for noise reduction and increased privacy
Certified and fire-rated
Residents in Salt Lake City, Utah select Greener Walls® because of the numerous advantages our Utah green walls offer. Regular trimming and pruning of natural plants are essential to keep them appearing fresh and luxurious. With VistaFolia® artificial plant walls, you will only need to dust our faux foliage walls as needed, freeing up your time to work on other tasks. Spend more time enjoying your vibrant interior and landscape designs. Our products allow you to save hundreds of gallons of water by eliminating the need for a cumbersome watering system. The partnership between Greener Walls® and VistaFolia® has resulted in the replication of natural colors found in real plants to ensure that our vertical garden walls have the most realistic appearance.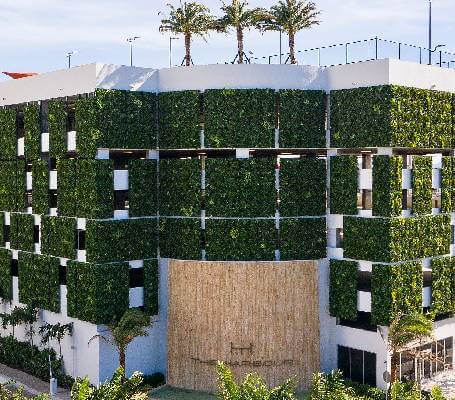 Kitchens
Outdoor living spaces
Poolside lounge areas
Patios
Bathrooms
Bedrooms
Living rooms
Courtyards
Hallways
Pathways
Walls & fences
Gardens
Exhibits
Restaurants & bars
Spas and poolside lounges
Casinos
Airports
Parking garage designs
Photography & movie backdrops
Trade shows
Greener Walls® provides the most lifelike synthetic green wall panel systems available. Our vertical gardens fit together flawlessly, are fire tested and certified, and are UV stabilized to prevent their life-like color pigments from fading. We work carefully to ensure that all of our gorgeous plant panels are available to our clients for any use and in any space. Whether you are an architect, an interior designer, a company owner, or a homeowner, our design experts will help you transform your living area into a work of art.
Artificial Living Walls for Customers Nationwide.
Greener Walls® ships and installs nationally our artificial living walls. We have viewing showrooms in the following cities:
We work closely with our customers to ensure that all their design ideas are brought to life. For more than 25 years, we have delivered extraordinary customer service and precision synthetic green wall installations. As a result, we were able to hone our skills to provide you with the highest quality artificial living wall in the industry. We take great pleasure in the amount of personalization and individuality we give to our customers in order to make their place unique. Contact Greener Walls® for more information on all of our products and services and how to begin your next project today!