San Diego Vertical Wall Gardens that Make an Impression
A vertical wall garden is now in reach. No longer are these spectacular feature walls reserved for just mansions and commercial locations. Now you can have a synthetic living wall in your home or business. So, when you and your visitors enter your space, a warm welcome awaits with a fresh, green, luxurious space.
Greener Walls® San Diego uses a sectional panel system to create the overall effect of these little-to-no maintenance, hyper-realistic plant walls. Each individual section connects to others, so you customize both the size and which plants and flowers you want. Choose from 8 different plant panel sections to feature in your entryway, or spruce up any dull, empty wall. Or install an artificial vertical garden wall to screen out the neighbors, eliminate the sight line, and reduce noise. Perfect poolside, rooftop, and in spas!
Capture the incredibly realistic textures, shades, and colors of living plants. Customize your walls indoors or outdoors to bring to life your patio, common area, great room, or roof terrace. UV-stable foliage carries a 5-year warranty because it never fades!
Seamless integration panel to panel for a continuous look
Fire Tested and Certified
Maintenance Free
Natural, ultra-realistic designs look like real plants
Create an impression in your space with a realistic artificial green wall. Synthetic plant walls incorporate an illusion of nature in urban and suburban environments. Inviting, invigorating, and impressive, indoors and outdoors, free-standing or attached, a spectacular vertical garden wall awaits almost any space.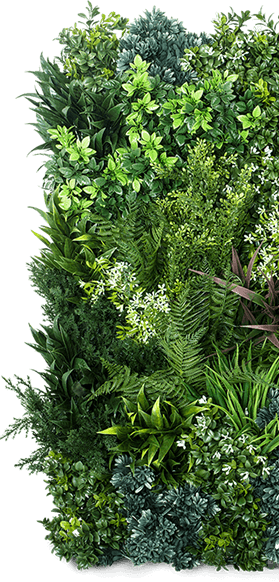 How to Design an Artificial Plant Wall
The first choice is to decide where you want your synthetic garden wall. Do you already have a wall picked out where nothing else seems to work? Or, like many, love the idea of this maintenance-free, exquisite feature, so you are searching for where it fits? 
With real plants, you need to consider everything from the light levels to the irrigation. But with a synthetic living wall from Greener Walls® San Diego, those questions don't matter. So, where do you want to make a stunning impression? An entryway or any otherwise uninteresting wall section are great choices. A synthetic green wall is also a spectacular, luxurious addition to a master suite.
Surroundings are important for the health and well-being of residents and visitors in both residential and commercial environments. Stunning plant walls in residential and commercial applications here in San Diego make your home, office or retail space more inviting. Vertical gardens outdoors work instantly as an attractive privacy screen, ideal for pool and BBQ areas.
Are you ready for a vertical garden wall from Greener Walls® in San Diego? Contact us today to learn more.