Green Walls® artificial green wall panels are manufactured to meet the needs of our customers in an efficient and thematic way. Whether you are an architect, interior designer, restaurant owner or a homeowner, Greener Walls® has a unique solution to enhance your property and turn your empty walls into an urban oasis. Greener Walls® artificial living wall panels from Vistafolia® are made from hyper-realistic, lightweight, hassle-free, and weather resistant artificial plants. These living wall panels can be applied to any residential or commercial application both indoors and outdoors.
Here are the many unique features and benefits of our artificial living walls:
Three-panel system to create a natural look without repetition or visible joins
8 varieties of colors and textures to choose from
100% pure color pigments that never fade
Quick and easy installation with proper fixings provided
Customizable to overcome complex designs
Requires little-to-no maintenance
No watering or trimming ever required
UV-IFR Technology to maintain rich color in direct sunlight
Suitable for all indoor and outdoor environments
Designed to endure harsh weather conditions such as rain snow, wind, hail, and more
Truly unique designs custom-tailored to any style
Enhanced noise reduction
Lightweight foliage wall panels of 7kg / 15.5 pounds per panel
Each panel measures 80 cm x 80 cm / 31.5" x 31.5"
Quality Standard
Fully Fire Rated and Certified
5-year warranty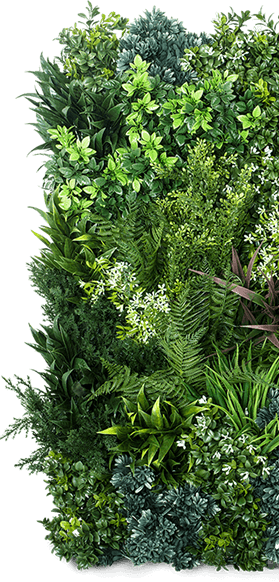 Add Colors and Textures to Customize Your Living Walls
At Greener Walls®, we see our customers as collaborators in the development process. We want a vibrant living and working space that blends the spirit of nature with our customer's vision. This is why we offer a collection of bright colors and lush textures in replacement boxes that can be changed from season to season, or simply as your mood suits.
There are 8 varieties to mix and match from including:
Add bursts of rich color to draw the eye
Soft Lavender Color Box: Flowing greens blended with luminous blue lavender and blossoms
Spring Pink Color Box: A timeless arrangement of graceful pink flowers and earthy greens plants
Delicate White Color Box: Lovely assortment of summer blossoms and grasses dotted with delicate white flowers
Forest Flame Color Box: Bold red-flowering Pieris complemented by lush green foliage
Add bursts of bold textures to add extra depth
Lush Green Texture Box: A tumble of wild grasses and earthy ferns combined with green-fused and delicate flowers
Large Grasses Texture Box: A selection of large 18" grasses, shades of green and burgundy
Trailing Ivy Texture Box: Trailing ivy for a trailing finish that can be used to add volume, or even as a standalone plant for baskets and planters
Trailing Buxus Texture Box: Trailing Buxus for a trailing finish that looks at home on the panel, or adding an extra dimension to an indoor or outdoor display

We pride ourselves in offering the most realistic artificial green walls nationwide. Greener Walls® designers work to create the exact coloring, shading, dimensions, and movements of real-life planter walls. Our workmanship comes from the deepest appreciation of natural patterns. Our installation service is an engineering process that is dedicated to artisan and technical precision. Greener Walls® artificial living walls are built by highly experienced designers who commit their skills and knowledge of design, manufacturing, and installation to our greenery wall systems. Our production and sales teams work with you to deliver the perfect product for you. Contact Greener Walls® to learn more about vertical gardens and to schedule a free consultation today.