Designers in a variety of industries work with Greener Walls® to enhance their designs with hyper-realistic artificial living walls. Our plant wall panels products were specifically designed to meet the demands of designers and architects that are looking for a maintenance-free and cost-effective alternative to growing plants vertically.
Artificial green walls can maintain the vibrancy in spaces that real plants struggle to grow naturally. With no need for light or nutrients, you can have foliage that will easily integrate into any design.
Many designers will be happy to know we use the highest quality faux plant materials from Vistafolia®, the industry-leader of artificial faux wall panels. All our greenery walls are manufactured at the highest standard and are indistinguishable from real plants. Designers will receive an exciting blend of style and functionality when using our product.
Designers and architects can order a living wall panel to be shipped directly to you. Our solution can be applied to any surface for texture, features, and benefits. Contact us today for more information about how we can make your next vertical garden design one-of-a-kind with Vistafolia® plant wall panels.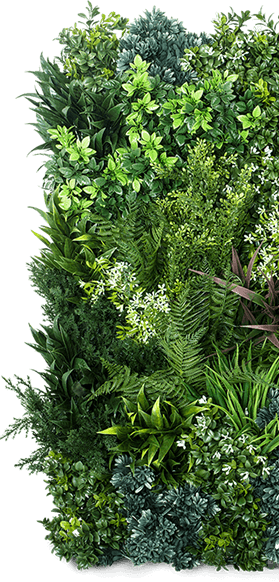 Quality Artificial Greenery for Indoor and Outdoor Vertical Garden Designs
Greener Walls® replica plant walls create designs that withstand harsh weather conditions and are fully fire rated and certified. Designers have the option of ordering single unit green wall panels to install themselves or they can hire us to install a co-created design in the Texas area. Our team is excited to get involved in any project venture for homes, businesses, and commercial spaces. Types of industry designers we have experience working with include:
Architects
Landscape architects
Interior designers
TV/movie producers
Industrial designers
Home renovators
Photographers 
Trade show managers and more
Greener Walls® offers designers a unique vertical garden solution that can be delivered and installed nationwide. Contact Greener Walls® today for more information about how we can help with your next project.