Enhance Luxury, Comfort, and Customer Experience
According to a recent survey, the average worker will spend nearly 90,000 hours of their life at work. The majority of this time is spent sitting in drab enclosed spaces where the work atmosphere is unhealthy and very gloomy. This can lead to a drop in production and innovation. It's no surprise that half of all workers dread going to work every day, but artificial green walls can help with this.
Employers have responded by rethinking their office décor. Artificial green walls are an excellent way to both improve an office's interior design and boost employee morale. Over the years, their use in office spaces, reception areas, feature walls, and office interior design has exploded.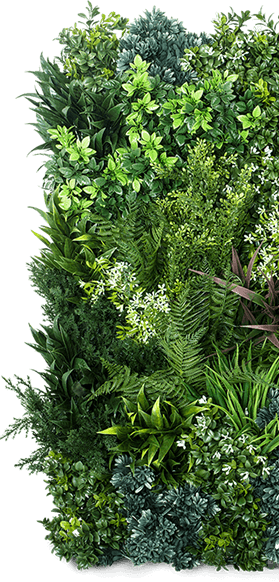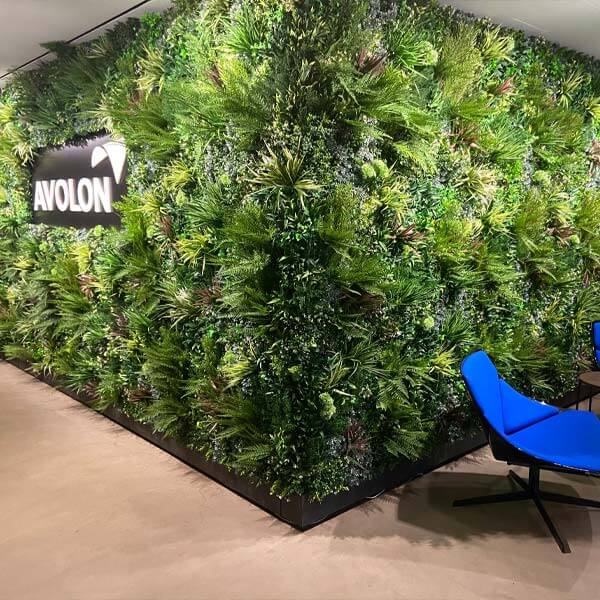 Let Greener Walls Help You Transform Your Office Space
Let Greener Walls Help You Transform Your Office Space
Our artificial green walls are constructed from synthetic plants that are professionally interlocked to create a vertical garden. Owing to technological innovations, today's high-quality artificial green walls are highly realistic, easy to care for, and very durable.
Artificial plant walls are a lovely addition to any office, regardless of the size or location. With Greener Walls artificial plant walls, you never have to worry about sunlight or water. This makes them ideal for office spaces where plants cannot grow. Our hyper-realistic green wall panel system will improve the overall atmosphere of any office, whether you want to green up an empty wall in your reception areas or build a full divider on the production floor. With Greener Walls, you're only limited by your imagination.
Benefits of Our Artificial Green Walls
Artificial green walls have numerous advantages. Let's examine them below:
Can Boost Morale, Productivity, & Lower Stress
It is a well-known fact that more than half of all workers dislike their jobs. While no two employee situations are alike, workplace stress is a common factor. This can lead to burnout, exhaustion, cynicism, and a general sense of inefficacy. For many employers, altering the overall aesthetics of the office environment is a creative option.
One of the most innovative ways to improve an office atmosphere and minimize work-related stress is to install an artificial green wall. According to studies, integrating green plants into an office environment can have a profound soothing and therapeutic effect. It can rejuvenate employee morale, reduce stress and increase productivity.
Easy to Maintain
Offices have toyed with natural plants on walls in the past. However, considering the enormous maintenance work required, this did not go well. For instance, consider the delicate task of watering a plant that extends vertically across a modern wall, especially if that same wall houses electrical cables. Not only is this a fire hazard, but the water can also leak into the drywall resulting in structural damage.
Similarly, natural plant walls cannot flourish in low-light environments. This means they have to be installed near windows, under large glass roofs, or in areas with plenty of light, such as the reception area. Overall, the cost of running natural green walls can be incredibly high.
Installing artificial green walls is a better remedy. They do not require water and are far less disruptive to the workplace. Furthermore, artificial green walls can be installed indoors without the need for lighting. This makes them less expensive to maintain than their competitors.
Easy to Install
Our artificial green walls are easy to set up. On the other hand, natural grass walls are difficult to install and can create significant disruption in the office. It may even take some time for the plants to become completely functional in some circumstances.
Because artificial green walls are composed of synthetic interlocking panels, they are simple to install and cause minimal disruption. Even better, there are no waiting periods for the plants to become fully functional. This means you can start reaping the benefits right away. In an office environment where time is money, this is priceless.
Contact Us to Set Up an Appointment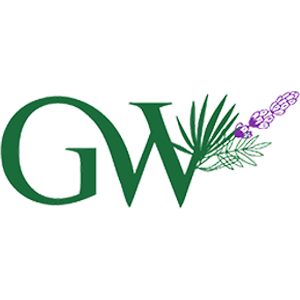 Due to the tremendous stress experienced in numerous offices, many businesses have turned to Greener Walls for ultra-realistic artificial green walls. Our extensive range of replacement color and texture wall panels sets us apart from our competitors. Contact us today to receive additional details on our gold-grade artificial green walls and how to get started.