Denver artificial living walls from Greener Walls are the ideal low-maintenance alternative for greening surfaces where real plants are difficult and expensive to grow vertically. Our synthetic plant wall panel system combines an assortment of ultra-realistic faux greenery to produce vertical gardens that decrease noise and enhance privacy. They are appropriate for both indoor and outdoor applications due to their UV protection, extreme weather resilience, and minimal maintenance requirements. Artificial green walls provide luxury & vibrance for any vertical surface. Created to meet the demands of architects and designers looking to add beautiful, cost-effective, and low maintenance foliage to their designs, Greener Walls will be the perfect addition to your designs.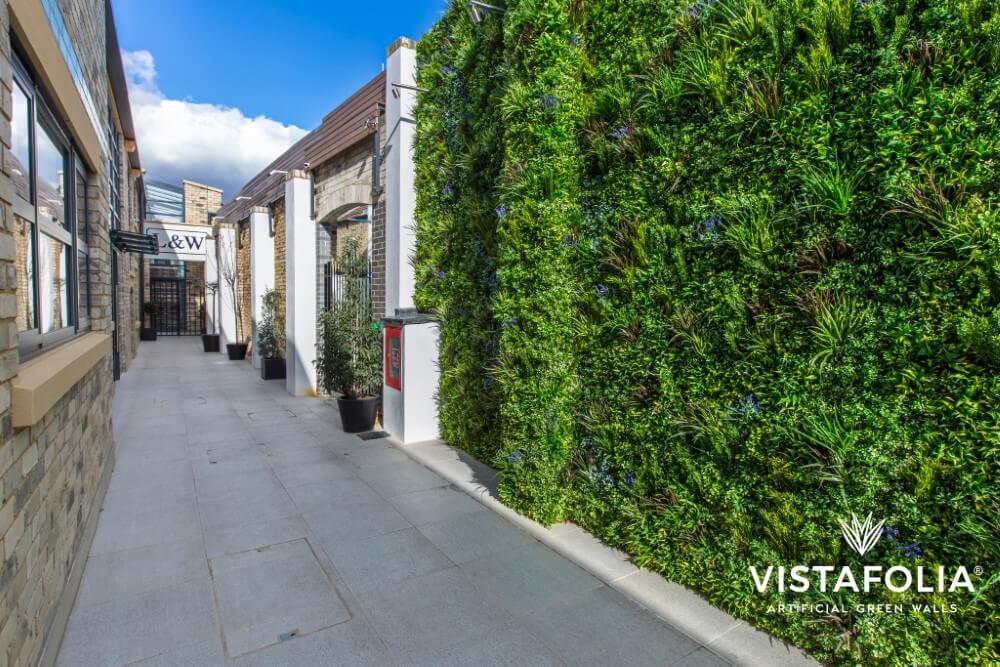 Artificial green walls in Denver, CO are perfect for filling vacant space as well as adorning your already equipped living space. Denver artificial plant wall installations provide additional seclusion and sound insulation while looking lively and lush all year. Regardless of the scale of the job, our team of specialists will collaborate with you to satisfy your specific project requirements. Our products improve the aesthetics of your living environment while also providing a sense of deeper tranquility.
VistaFolia® Artificial Living Walls in Denver, CO
For a completely personalized appearance, our ultra-realistic artificial green wall panels are filled with natural-looking and diverse blossoms and greenery. Thanks to our innovative 3-panel technique, you can expect flawless integration with no join lines or visible patterns. Furthermore, unlike a true living wall system, no watering or trimming is ever needed
5-year warranty
8 varieties of colored blossoms and texture packs
Three-panel system for a natural appearance with no evident connections or repetition
Customizable to meet the needs of complicated designs
Suitable for use in both indoor and outdoor settings
100% pure color pigments that never fade
Maintenance is no longer needed
UV-IFR technology helps to keep the color vibrant even when exposed to direct sunshine
Are perfect for noise reduction and increased privacy
Certified and fire-rated
Denver artificial living walls from Greener Walls provide a touch of elegance to any interior or exterior design. They provide a lush and vivid backdrop that does not fade, even under full sunshine. They may be personalized with a variety of fake plants and ivies. They are always stunning, regardless of the season or application. Any project, no matter how large or little, can be converted into a beautiful and inspirational setting that promotes calm, productivity, and well-being.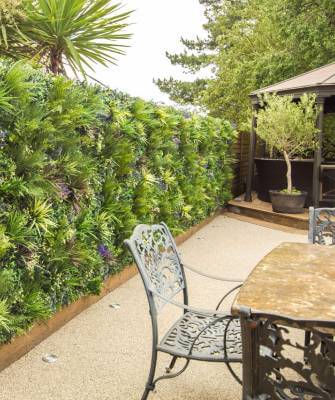 VistaFolia® from Greener Walls are suitable for many residential applications including:
Kitchens
Outdoor living spaces
Poolside lounge areas
Patios
Bathrooms
Bedrooms
Living rooms
Courtyards
Hallways
Pathways
Walls & fences
Gardens
Architects, interior designers, landscape architects and more choose Greener Walls for numerous commercial designs including:
Exhibits
Restaurants & bars
Spas and poolside lounges
Casinos
Airports
Parking garage designs
Photography & movie backdrops
Trade shows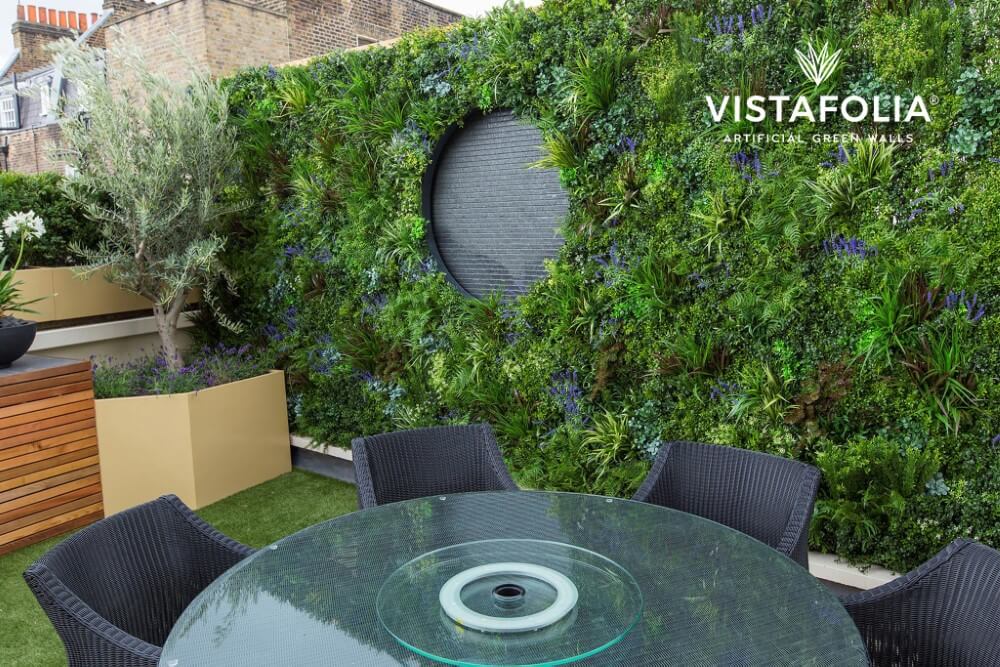 Creating inspiring settings is second nature to us. VistaFolia® artificial foliage was created with flexibility and versatility in mind. Our attractive solution can thrive in even the most difficult environments, regardless of your creative use, whether indoors or outdoors. Our faux green walls can reinvent any space for the better, from colorful airport backdrops to greener balconies.
Artificial Living Walls for Customers Nationwide.
Greener Walls® ships and installs nationally our artificial living walls. We have viewing showrooms in the following cities:
For the last 25 years, Greener Walls has lived up to its commitment to creating the greatest vertical plant walls available on the market to date. We take every step necessary to help you bring all of your design dreams into reality. Combined with our exceptionally high level of customer service and the most precise installations, Greener Walls is chosen time and time again by customers looking to breathe new life into their interior and exterior designs.
Contact us for more information on all of our services and products and bring home our beauty today!