Scottsdale artificial living walls by Greener Walls provide a high-quality, low-maintenance alternative to growing real plants vertically. Our VistaFolia greenery walls in Scottsdale are inspired by our love for natural foliage and influenced by our customers' unique design ideas. We give our customers creative control to ensure that their design ideas are brought to life in any interior or exterior environment by offering easy customization options with a variety of UV-resistant synthetic plants and blossoms.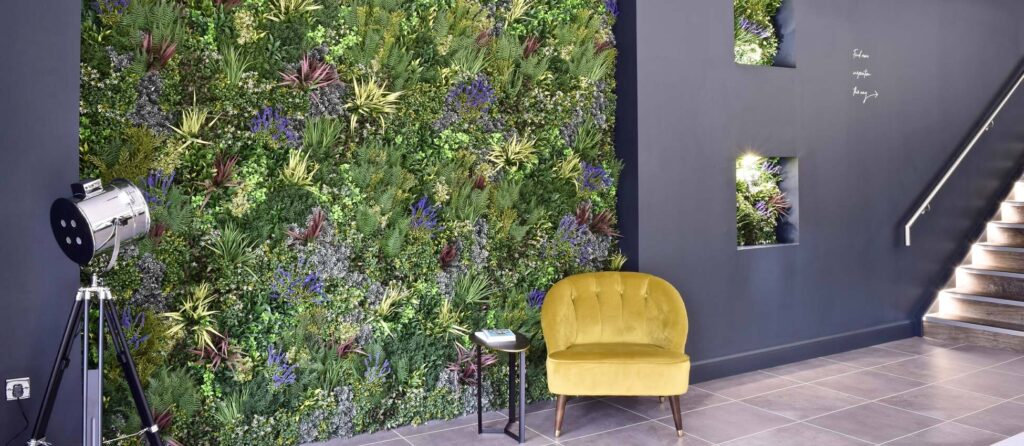 VistaFolia by Greener Walls is designed to meet the demands of architects and designers who want economical, low-maintenance, and aesthetically pleasing greenery for their projects. VistaFolia vertical gardens in Scottsdale are a great way to provide unmatched luxury and vibrancy to any commercial or residential space. They were engineered to replicate the natural appearances and behaviors of real plants without requiring the save level of maintenance requirements. Our Scottsdale VistaFolia panels offer flawless integration as a result of our exclusive 3-panel system! These panels connect seamlessly to create one cohesive wall design. No two Scottsdale artificial wall installations will look the same, offering a unique look and feel to any application.
Additional features and benefits of Greener Walls by VistaFolia® include, but are not limited to: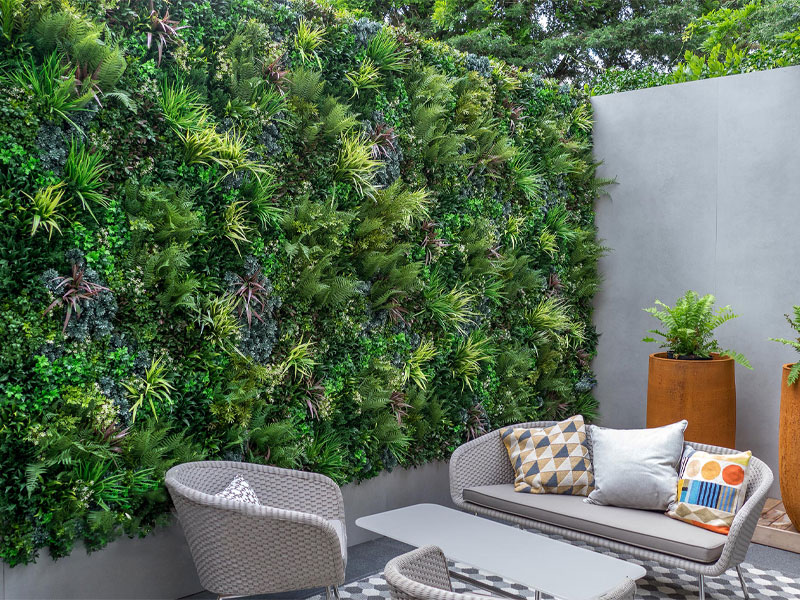 8 varieties of blossom colors and foliage textures
Three-panel system for a natural appearance with no evident connections or repetitions
Customizable to meet the needs of complicated designs
Suitable for use in both indoor and outdoor settings
100% pure color pigments that never fade
Maintenance is minimal to non-existent; no irrigation required
Aid in cleaner air quality
UV-IFR technology helps to keep the colors vibrant even when exposed to direct sunshine
Perfect for noise reduction and increased privacy
Fire rated and certified
Panels backed by a 5-year warranty
Any interior or exterior design will benefit from the elegance of our synthetic living walls in Scottsdale, AZ. They provide a lush and vivid backdrop that does not fade even in direct sunshine. They may be personalized with a variety of flowers, grasses, and ivies to accommodate any design elements. Regardless of the season or purpose, they are always attractive. Any project, no matter how big or small, may be converted into a beautiful and inspiring setting that promotes tranquility, productivity, and health.
In addition, our faux greenery walls in Scottsdale are designed to save you time and money on maintenance and water bills. Our synthetic greenery does not require any trimming, pruning, or watering. No more messy irrigation systems to keep your plants alive. The flexibility and versatility of our VistaFolia green walls can reinvent any space for the better, from colorful airport backdrops and hotel lobbies, to living rooms, backyards, commercial offices and more.
The vibrant hues and sumptuous textures provide elegance, breathe fresh life into your living space, and enhance your backyard's landscape. Adding Scottsdale artificial plant walls to both indoor and outdoor designs can make a wonderful first impression on guests by creating the illusion that your space is larger than it really is.
Residential Applications
Living rooms
Courtyards
Hallways
Pathways
Kitchens
Outdoor patios
Bathrooms
Bedrooms
Walls & fences
Gardens
Commercial Installation
Office spaces
Trade shows
Spas & pool sides
Restaurants & bars
Casinos
Airports
Parking garage designs
Photography & movie backgrounds
Greener Walls® proudly ships nationally and has showroom locations in:
Greener Walls is an innovative approach to enrich your property and transform your barren walls into an urban hideaway. Whether you are an architect, interior designer, restaurant owner, or homeowner, Greener Walls can work directly with you to design the perfect VistaFolia synthetic green wall installation in Scottsdale! At Greener Walls, we are committed to providing our customers with designs that will elevate their residential or commercial property. For more information about our Scottsdale artificial plant walls, contact Greener Walls today to schedule a free consultation!