*Dallas Children's Medical Center
More and more each day, hospitals, doctors' offices, and other healthcare facilities have been incorporating plant life into their architecture and interior design to create more serene environments for their patients. In particular, VistaFolia artificial living walls are quickly growing in popularity amongst various healthcare institutions around the United States. Plant life, real or fake, promote a sense of serenity and can help promote physical as well as mental benefits for both patients and healthcare faculty. In addition to the mental and physical benefits, Greener Walls vertical gardens can increase your property value and provide luxurious aesthetics all throughout the year.
VistaFolia artificial living walls from Greener Walls provide luxury and vibrancy to any interior design scheme and do not require any of the traditional maintenance required of real plants. Artificial plant walls in Texas or California, are designed to allow for installation in areas that plants couldn't grow naturally such as cityscapes, hospital interiors, or medical practice lobbies, making them perfect for spaces of any size. Additionally, by using VistaFolia green walls instead of real plants, you are able to remove allergens from the air while still enjoying the color and vibrance found in flower blossoms.
We recognize that no two environments are the same. While our panels may be customized to fit certain forms, our color and texture boxes allow you to customize your green wall with our catalog of blooms and ivies. Brighten your surroundings with pure color pigments and the incredible lifelike appearance and behaviors of real plants without the upkeep.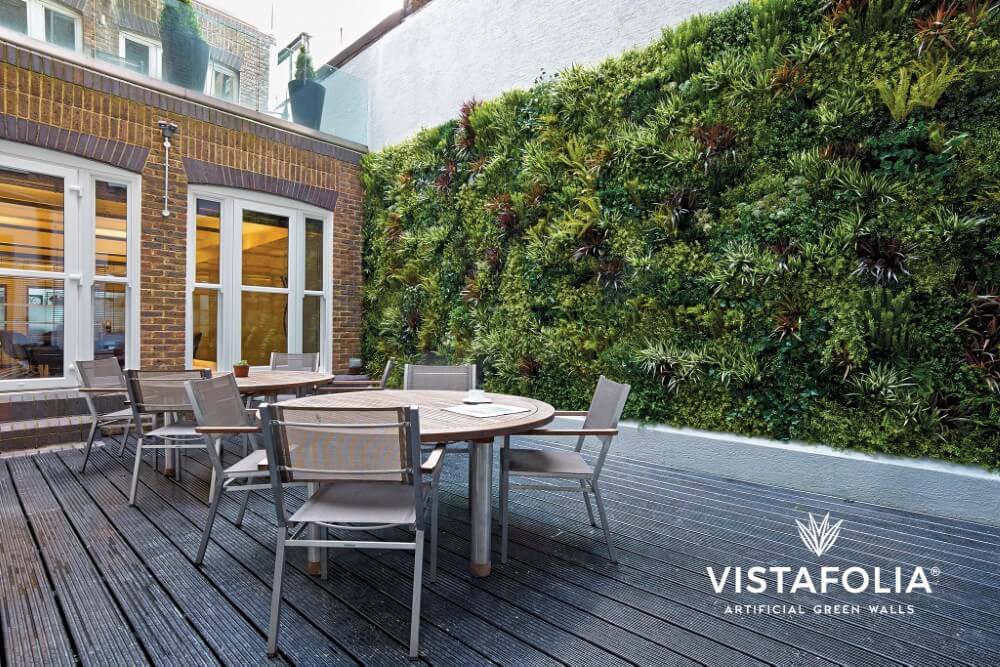 Greener Walls plant wall panels eliminate the need for maintenance, remove messy irrigation, and help to conserve thousands of gallons of water annually. VistaFolia synthetic green walls save time and money throughout the year and are reusable for future installations, making them safe for the environment and long-lasting.
Greener Walls artificial greenery panels offer many features and benefits, including:
Customizable for complex designs
8 varieties of bright colors and lush textures to choose from
Unmatched realism: exact colors, shadings, and dimensions
Quick and easy to install
100% pure color pigments
Replicates the natural movements of real plants
Three-panel system to create a natural look without repetition or visible joins
UV-IFR Technology to prevent fading in direct sunlight
Suitable for all environments indoors and outdoors
Designed to endure harsh weather conditions
Lightweight foliage wall panels of 7 kg / 15.5 pounds per panel
Truly unique designs custom-tailored to any style
Enhances privacy and noise reduction in loud and crowded areas
Fire-rated and certified
Backed by a 5-year warranty
*Dallas Children's Medical Center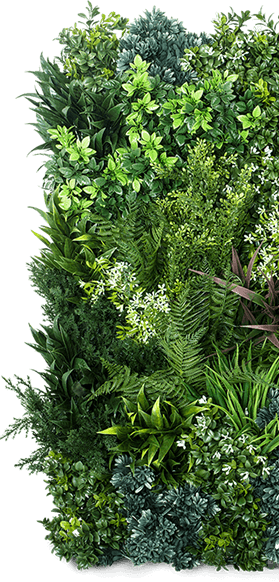 VistaFolia® Plant Walls from Greener Walls Provide Elevated Experiences
Often times, visiting the hospital can be disheartening and stressful for many people. Our lush and hyper-realistic foliage walls aim to relieve some of the stress and discomfort by providing a calming atmosphere to ease these feelings. Additionally, plants are recognized for filtering out dust and other air pollutants, which can cause respiratory problems and discomfort for those who live nearby, making artificial living walls a wonderful and effective way to promote healthy air quality.
In environments such as hospitals and healthcare facilities, it is extremely important to maintain sterile surroundings. While plants add to the calmness and elegance of an environment, they can also add mud, soil, leaks in irrigation, and other unpleasantries. VistaFolia green wall panels promote healthy conditions for patients and faculty to prevent further hardships.
Additionally, when nature and plants are incorporated in a workplace, productivity, creativity, and a sense of togetherness and security is created. With the help of VistaFolia artificial living walls for hospitals in Texas, California, Mississippi, and other states can bring forth peace in the best way that possible.
*Dallas Children's Medical Center
Greener Walls ships throughout the United States, as well as offers artificial green wall installation services for hospital designers in the following cities and surrounding areas: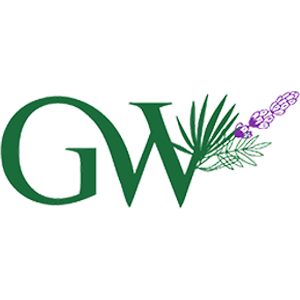 Greener Walls offers hyper-realistic artificial plant walls that allow customers to express their creativity while benefiting their new environment. For more than 25 years, VistaFolia has researched and developed the industry's most realistic, low maintenance, and easy to customize and install greenery walls so your hospital interiors and landscape designs can truly benefit from the switch the synthetic plant walls. For more information on what Greener Walls has to offer, contact us to schedule a free design consultation today!