Homes and businesses in Anaheim, CA, are taking their interior and exterior designs to new heights by incorporating ultra-realistic artificial living walls and faux plants from Greener Walls. We have spent decades taking inspiration from nature for new plant shapes, sizes, and colors. To create realistic, long-lasting, and stunning fake green walls, it was vital for us to replicate the hues and textures of various types of plants. In doing so, our Anaheim artificial living walls also replicate the life-like movements of traditional plants without any trimming, pruning, or watering by allowing the free movement of air through the panels. Ultimately, for our Anaheim customers, this means our artificial greenery walls are available with top-quality synthetic plants, flowers, leaves, and imitation ivies.
Applications for Artificial Green Walls in Anaheim, California
At Greener Walls, our synthetic green walls in Anaheim, CA are designed to fit together seamlessly and avoid design duplication. The obvious joints offered by many competing companies often ruin the illusion of faux plants. The use of quality products from Greener Walls ensures that your installation looks great all year round by removing the need for upkeep and untidy watering systems. Due to the numerous advantages we offer – along with our outstanding quality and performance – home and business owners in the area favor us at Greener Walls and the many applications of our products, including the following:
Living rooms
Courtyards
Hallways
Pathways
Kitchens
Outdoor patios
Bathrooms
Bedrooms
Walls & Fences
Gardens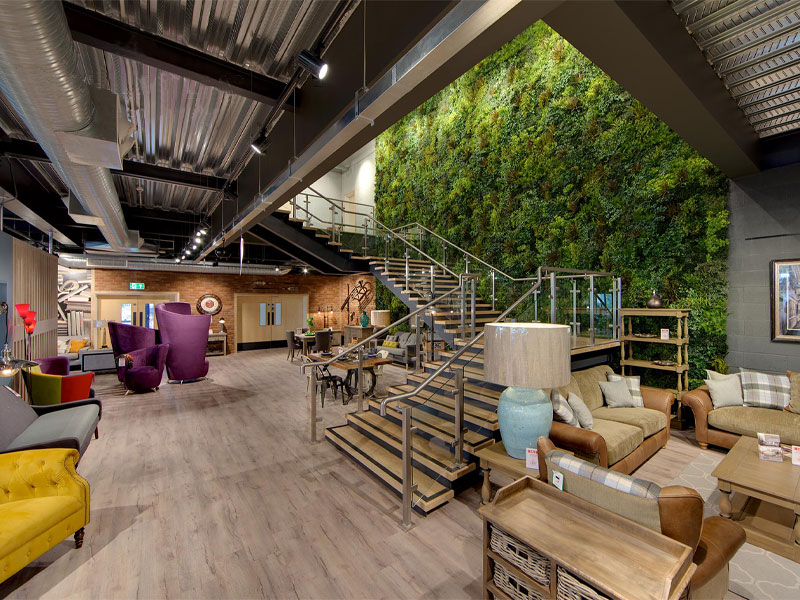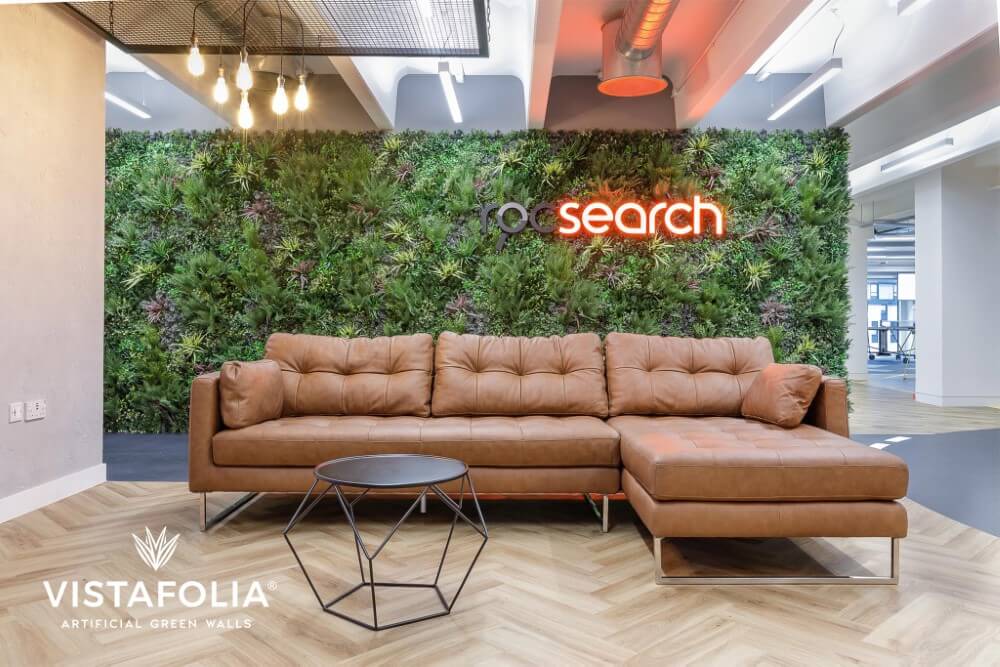 Office spaces
Retail stores
Trade shows
Spas & poolsides
Resorts & hotel lobbies
Restaurants & bars
Casinos
Airports
Parking garage designs
Photo & video background
The Benefits of Anaheim Artificial Living Walls
Beyond the unmatched realism of Greener Walls, our Anaheim artificial living walls include a long list of benefits that help us lead the industry. With our faux plant walls, there are no more messy irrigation systems to keep your plants alive. Plus, they offer the flexibility and versatility to reinvent nearly any space to create your new favorite gathering place. In addition, we provide easy customization choices with a selection of UV-resistant artificial plants and blooms to provide our clients with creative freedom, so their design ideas are realized in virtually any indoor or external area. Details on the benefits of our synthetic green walls include:
5-year warranty
8 varieties of colors and textures
Three-panel system for a natural appearance with no evident connections or repetition
Customizable to meet the needs of complicated designs
Suitable for use in both indoor and outdoor settings
100% pure color pigments that never fade
Maintenance is minimal to non-existent
UV-IFR Technology helps to keep the color vibrant even when exposed to direct sunshine
Ideal for noise reduction and increased privacy
Certified and fire-rated
Artificial plants are proven to improve your surroundings in more ways than just functionality. The presence of plants can help improve the comfort of your surroundings. In addition, our faux foliage promotes a calming environment and can be used to improve your privacy and increase sound insulation.
As time goes on, we understand the importance of taking our mental health into consideration. Introducing faux plant life is a wonderful way to help create more mindful spaces in places like offices, where you may notice heightened productivity and reduced stress.

Stay Cleaner With Greener Walls®
Do you worry about sanitation in your living or workspace? Keeping ourselves and our workplaces free from illness is of paramount importance. As a result of our no-touch design, you can worry less about guests, customers, or co-workers spreading germs. Just simply dust the plants on our artificial plant walls at your convenience.
Additionally, our artificial living walls are free of pesticides and harsh chemicals that can make it hard to breathe and can end up in food and water if haphazardly sprayed. This makes them a healthier addition to a variety of spaces in Anaheim, CA.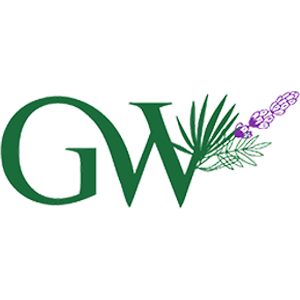 Contact Us Today to Learn More About Artificial Green Walls in Anaheim, CA!
Explore your creative freedom and effortlessly transform your living space in Anaheim, California, with artificial living walls from Greener Walls. Our team will work closely with you to meet the specifications of your home or business and help bring your design dreams to life. For more information about our Anaheim artificial green walls, contact us today to schedule a free consultation!