VistaFolia artificial green walls by Greener Walls are transforming the way architects and urban planners approach their parking garage designs. Many commercial developments include parking garages as a key component to reduce traffic and improve access to workplaces, homes, and other amenities. Without them, traffic on city streets would be significantly worse, and it would be difficult to access stores, offices, and other structures in highly populated regions by automobile
One of the most important aspects of community planning is parking structures; however, they are frequently challenging to build in a way that enhances the development's overall design aesthetic. By incorporating faux foliage and ivies into creative designs, artificial living walls provide a stunning and easy way to enhance your property value and parking garage appearances.
Parking garages offer a solution to dense parking areas by tucking away cars to preserve the aesthetic that may be desired by business owners and other commercial properties. That does not mean that they cannot be beautiful in the process. VistaFolia greenery panels help to hide the cars parked within while dramatically enhancing the exterior views from neighboring buildings and structures.
Additionally, artificial living walls from VistaFolia do not require traditional maintenance. That means that you can eliminate the need for messy irrigation and trimming requirements found with real plants. As a result, they can be installed in just about any area where real plants could not survive or grow otherwise. This includes underground, parking garage exterior designs, cityscapes, interior entrances to neighboring buildings, bridges, walkways, and much more. Additionally, statistics show that landscape irrigation uses an estimated 9 billion gallons of water every day, or close to one-third of all household water consumption, making artificial plant life an easy and effective way to save this vital resource.
VistaFolia synthetic plant walls are made of overlapping panels that can be seamlessly linked to produce a smooth flow that resembles a real plant wall, in contrast to their natural counterparts, which can be difficult to install and maintain. Our artificial vertical gardens offer unrivaled attention-to-detail and patent-pending technology in our panel and joint system. Thus, creating the most natural looking and conveniently installed synthetic plant wall on the market.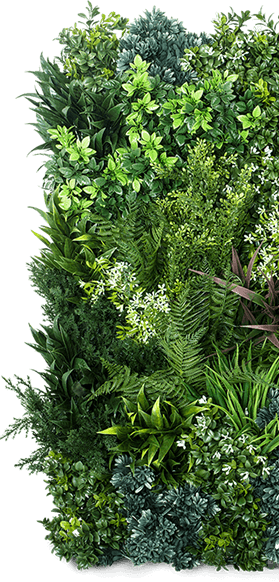 The Unique Designs and Benefits Provided by VistaFolia® Artificial Living Walls
Greener Walls' unique 3-panel system prevents repetition. This ensures that no two installations look the same. In addition, we offer a variety of color box options to further your creativity. We take inspiration from nature as well as our client's vision, to give our clients creative freedom over their living walls for parking garage design.
Unrivaled realism with exact colors, shadings, dimensions, and movement of real plants
100% pure color pigments that never fade
Lightweight panels designed to allow free movement of air
Wind, freeze, and fire tested to endure any climate conditions
Built to endure the harshest weather conditions
UV protection to prevent fading
Seamless panel integration
ISO 9001 manufacturing standards
Fire tested and certified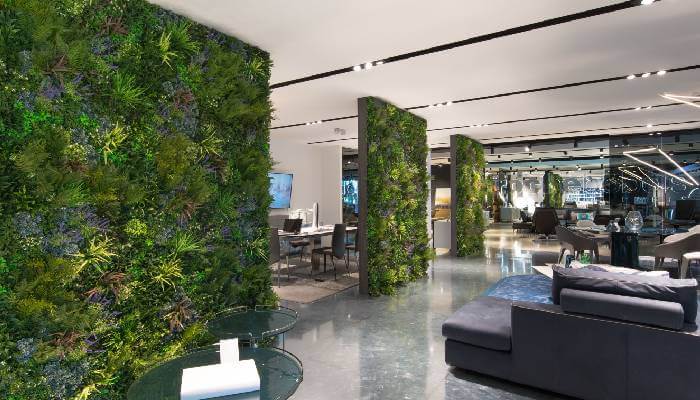 In a post-pandemic era, it has become a more prominent focus to find ways to increase sanitation in our everyday lives. Installing a VistaFolia artificial plant wall from Greener Walls offers a cleaner and more sanitary solution to real plants thanks to their low and touch-free maintenance design. They may only need an occasional dusting to keep them looking vibrant, making them a unique and elegant way to prevent the spread of germs, airborne allergens and more. In a parking garage that is potentially visited by hundreds of people daily, this is of significant importance.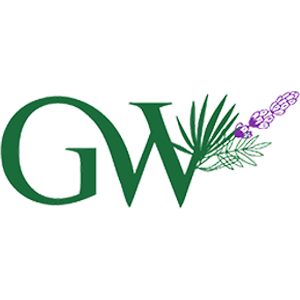 Greener Walls has years of experience innovating the market with its state-of-the-art VistaFolia artificial foliage for parking garages. Our ultra-realistic artificial flora and ivies complement both residential and commercial areas. Every parking garage living wall that we design provides stunning beauty and is unique to each client. Enjoy the ease of installation, low-maintenance, UV-tested colors, and fire-resistant protection of our products today. If you are ready to take advantage of these incredible benefits or learn more about our products, contact us today for a free quote or design consultation.
We ship our VistaFolia synthetic greenery panels for parking garage design throughout the United States as well as provide synthetic green wall installation in Dallas, TX, Houston, Austin, and San Antonio, TX, Mississippi, Oklahoma, Washington, and California.