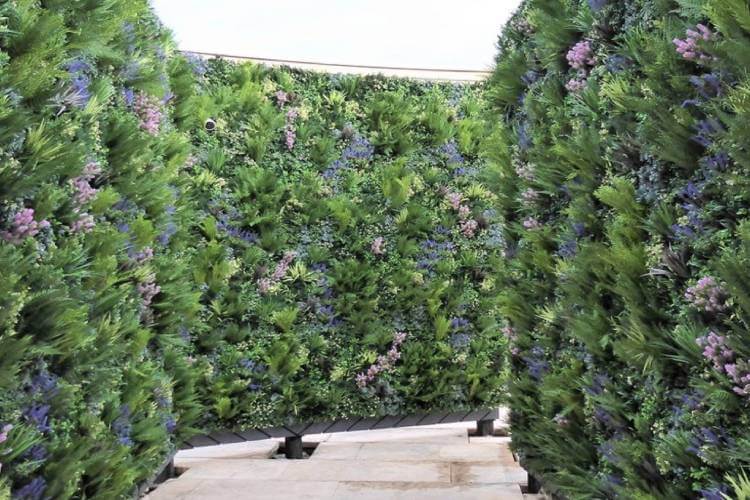 VistaFolia® artificial plant panels from Greener Walls® are both functional and creative. Our artificial green wall solutions were created expressly for this purpose: they're simple to cut to shape and install thanks to our unique fittings. Artificial green walls by Greener Walls® may be used to add privacy or extra décor to any spa or poolside application.
Artificial living walls are the most attractive and beautiful aspect of any company design. Employees and consumers engage better with your firm when they are in a relaxed and friendly environment. Greener walls® vertical plant gardens, in actuality, offer a number of advantages, including noise reduction, visual enhancement, weather resistance, maintenance-free displays, and so on. With VistaFolia® products, you can completely customize your living area. Create rich, colorful green walls and screens that will last for generations. Greener Walls® faux foliage is meticulously set for each individual panel, ensuring that no lines or patterns are replicated. This results in a seamless, ultra-realistic appearance.
Listed below are many of the features and benefits included with VistaFolia® products from Greener Walls®:
Customizable for complex designs
Quick and easy to install
100% pure color pigments
Three-panel system to create a natural look without repetition or visible joins
Requires low maintenance
No watering, trimming, or pruning required
UV-IFR Technology to prevent fading in direct sunlight
Suitable for all environments
Designed to endure harsh weather conditions
Lightweight foliage wall panels of 7kg / 15.5 pounds per panel
Truly unique designs custom-tailored to any style
Enhances noise reduction
Fire Rated and certified
5-year warranty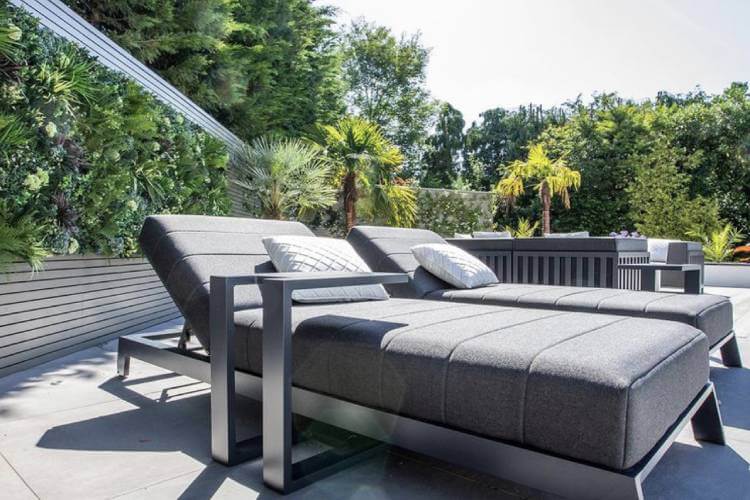 Including one of our luxurious artificial living walls to your poolside or spa will add luxury and relaxation to your living space. Our seamlessly fitting plant panel system allows for easy installation and designs that are truly unique to each one of our customers. With our help, your environment can be transformed into an urban oasis that will have your customers coming back to you time and time again.
Living Walls Are Safe for Every Environment
Products from Greener Walls® are a wonderful alternative to real plants not only because they provide the life-like behaviors of real plants without maintenance, but they are also a wonderful way to protect the environment. Without the need for maintenance equipment such as weed whackers, we can cut down on carbon emissions. Additionally, our customers see savings of 50-70% on water bills by utilizing synthetic foliage. A light dusting at your convenience is all it will take to keep your spa or pool areas looking incredible all year long.
Greener Walls® manufactures all of its products locally in the US to prevent outsourcing. As a result, this allows us to ensure that every faux foliage and ivy wall we design lives up to our exceptionally high environmental standards. Greener Walls® synthetic plant walls are never permanently fitted to one location. This allows them to be used in any environment at any time of the year, and in any climate. They are also recyclable, allowing them to be repurposed for new projects, houses, businesses, and more allowing us to prevent them from ending up in landfills throughout the United States.
Our customers are given the freedom to express their creativity to its fullest, and we are more than happy to assist in meeting their expectations. Greener Walls® designers strive to replicate the colors, shading, sizes, and movements of real-world planter walls. Our installation service is a painstaking technical process that combines our finest artistry and most advanced technologies. Greener Walls® artificial living walls are produced by highly experienced designers that specialize in the manufacturing, installations of our products.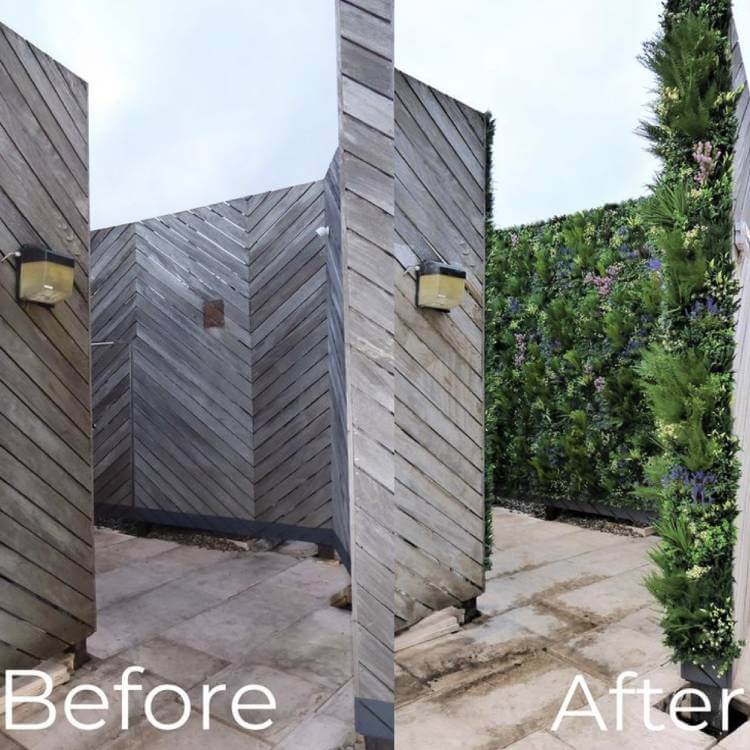 We ship our VistaFolia® panels throughout the United States and provide artificial living wall installation services throughout Texas, California, Mississippi, Oklahoma, and Washington. Some of our installation services include:
Dallas, TX artificial living wall installation
Houston, TX green wall installation
Austin, TX green wall installation
San Antonio, TX living wall installation
Sacramento, CA artificial living wall installation
San Diego, CA artificial plant walls for restaurants
Seattle, WA artificial green wall installation
For more information on all of our services and products, contact Greener Walls® to book a free consultation and get started on your next project today!