Penthouse and luxury apartments provide residents with a luxurious place to live. One of the easiest ways to enhance your luxury living space is with the inclusion of VistaFolia® artificial living walls by Greener Walls. Our synthetic green wall panels make it simple to add elegance to your landscape and interior designs by creating an inviting impression for all current and future residents. Installing a vertical garden provides your residents with enhanced privacy, sound insulation, aesthetic enhancements and more, all while reducing water and maintenance costs. Luxury living designs have never been easier to enhance with the addition of VistaFolia synthetic greenery wall panels.
Competitors use lesser quality single-panel solutions that utilize unrealistic looking foliage, which tends to look tacky and don't last with time due to UV light exposure, plant shedding and more. Our attention to detail ensures a one-of-a-kind, long-lasting, and ultra-realistic appearance for years to come. With our faux plant walls, any empty walls and vertical surfaces, both indoors and outdoors, can be transformed into a vibrant and luxurious urban oasis.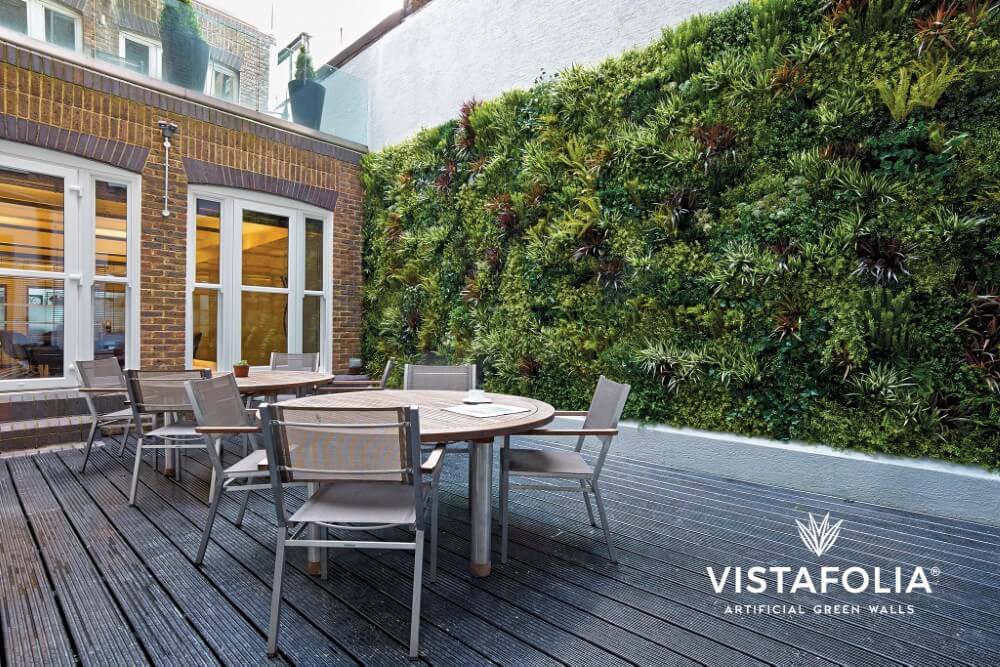 Greener Walls synthetic plant walls can help you transform your penthouse or luxury apartment building interiors with exclusive features and benefits that include:
Customizable panels to accommodate complex design ideas
Quick and easy installation
100% pure color pigments
Three-panel system to create a natural look without repetition or visible joins
Requires little-to-no maintenance
No watering or trimming ever required
UV-IFR Technology to prevent fading in direct sun exposure
Designed to endure harsh weather conditions such as extreme winds, snow, rain, hail and more
Lightweight foliage wall panels of 7 kg / 15.5 pounds per panel
Truly unique designs custom-tailored to any style
Noise reducing and privacy enhancing
Fire rated and certified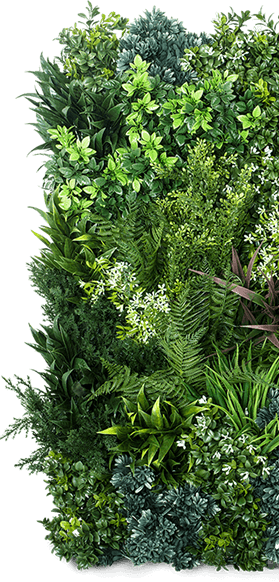 Synthetic Plant Walls for Luxury Apartment Design
The market is heavily saturated with imitations that may provide the bare minimum to your commercial designs; however, to achieve luxury apartment living, you'll find that Greener Walls will become your only choice for hyper-realistic vertical gardens.
VistaFolia artificial living walls are a low-maintenance solution for adding greenery to spaces where genuine plants are difficult to grow and maintain. Our green wall panel technology combines ultra-realistic synthetic foliage with a state-of-the-art panel system to produce visually appealing vertical gardens that minimize noise and enhance privacy. They are suited for both indoor and outdoor installations due to their UV protection and weather resilience. Artificial green walls may give beauty and life to any vertical surface. Designed to meet the demands of architects and designers looking to incorporate beautiful, low-maintenance flora into their designs.
With our products, your lobby will glow green and promote a calm atmosphere, welcoming your guests with open arms. Our ultra-realistic green wall solutions, which employ revolutionary design, enable each project to have its distinct vegetation. Our revolutionary panel system ensures that no two wall arrangements are the same, while maintaining the same level of quality and dependability in every setting. This is how we continue to bring individuality into every commercial design. Our faux plant walls have a fantastic reputation for having a true, seamless appearance, with natural textures and tones that make a significant impact on your residents and faculty.
Greener Walls proudly ships throughout the USA with installation services in the following cities and surrounding areas: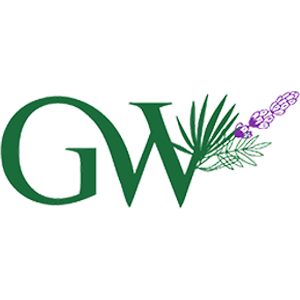 Greener Walls has helped renovate the US artificial living wall market with the addition of ultra-realistic synthetic green wall panels from VistaFolia. Your commercial luxury apartments will grow to the next level of enchantment with the inclusion of our astoundingly vibrant plant wall panels. Our endless research and development allow us to provide ultra-realistic faux greenery that eliminate the need for maintenance, meets environmental standards, and substantially enhances property value and aesthetic appearances. For more information about our VistaFolia green wall panels and synthetic greenery wall installation services, contact Greener Walls today and schedule a free consultation!