Artificial Green Walls
for Privacy Screening & Noise Reduction
Artificial plant walls from Greener Walls have emerged as an outstanding solution for privacy screening and noise reduction in both residential and business settings. Their popularity stems in part from the variety of options, minimal maintenance, and realistic appearance. The walls can also be built both indoors and outdoors, such as in common spaces and roof terraces where they are also excellent for noise reduction. Whether you want to spice up an empty wall in your backyard or build a large-scale project inside a commercial center, our hyper-realistic green wall system will complement your vision and enhance both privacy and serenity.
About Us
About Us
Greener Walls is the national distributor for Vistafolia formerly VistaGreen. With our impressive assortment of artificial plant walls, Greener Walls gives you the ability to create one-of-a-kind synthetic living walls for both privacy enhancement and noise reduction. Our commitment to excellence is evident in everything from design, to installation. With our selection of striking textures and brilliant colors, your living wall will be the focal point of your residential or commercial space.
Privacy and Noise Reduction Applications
Numerous businesses are turning to artificial plant walls to create naturalistic partitions within meetings, and production rooms in office buildings. Due to the walls' customizable options, these commercial living wall partitions are ideal for any modern home or office. Whether you're an office manager, own your own business, or are a homeowner or renter who needs a more structured living or working environment with both privacy and noise reduction, Greener Walls plant walls can do the job.
In today's commercial world, privacy is crucial. While many offices are transitioning to an open space setting in which employees can benefit from increased access to corporate resources, individual and departmental privacy remains a priority. Office managers, for example, may wish to separate the production floor from the break area. Some workplaces have even begun to include serenity areas where employees can unwind in between projects. These partitions can benefit from artificial plant walls which are ideal for creating an aura of privacy and zen without added maintenance.
Below are a few of the spaces that have seen an increase in the use of artificial plant walls to reduce noise and enhance privacy:
Resort & hotel lobbies
Hotel rooms
Ballrooms
Shopping Centers
Office spaces
Restaurants & bars
Casinos
Airports
Retail stores
Parking garage designs

Exhibits & trade shows
Spa & poolside privacy screens
Photography & movie backdrops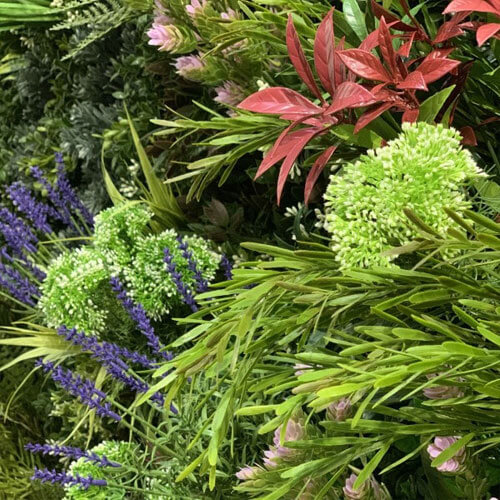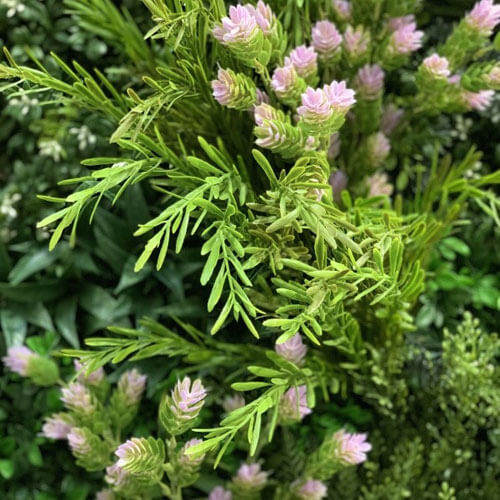 Why Use Artificial Plant Walls?
Our artificial plant walls come with numerous features and benefits.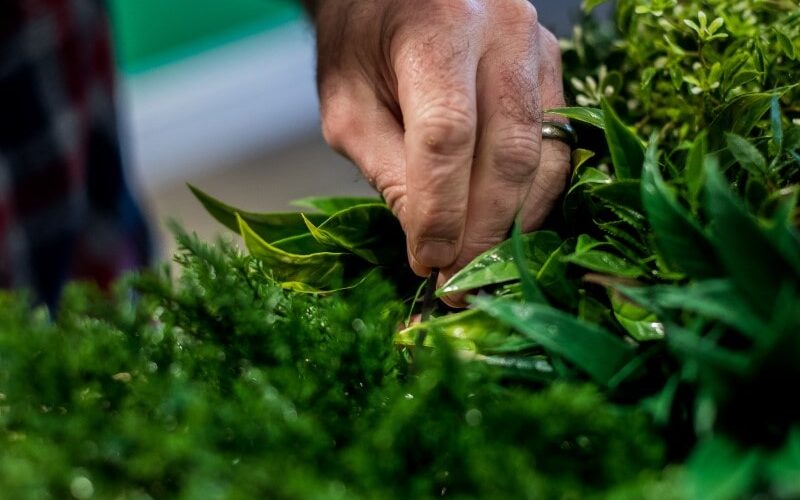 LOW MAINTENANCE
Artificial plant walls have a lower initial installation cost than traditional ones. Additionally, there are no ongoing maintenance requirements. Owners need not concern themselves with the plants dying due to lack of water or sunlight. This makes perfect financial sense for any business because time saved is equivalent to money gained. Similarly, since the synthetic plant walls do not need to be watered, there is no danger of structural damage to the building or floors due to water leaks.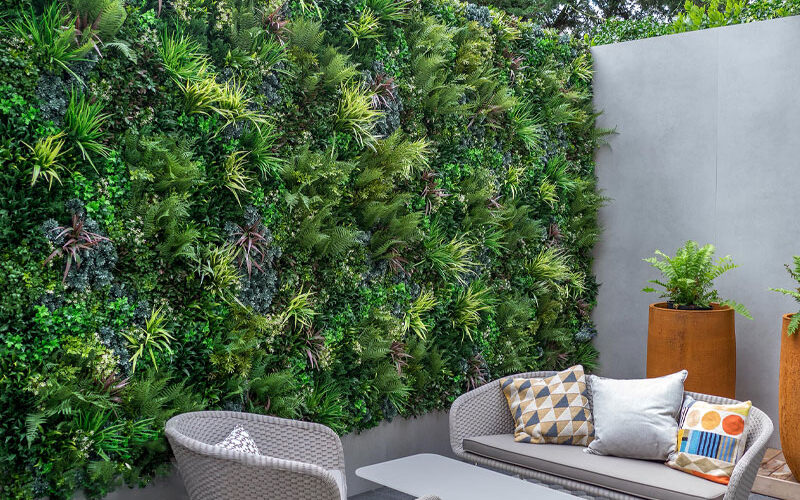 ULTRA-REALISTIC
Our artificial vertical green walls are highly realistic-looking. Gone are the days when commercial plant walls appeared obviously synthetic. Today, new artificial living wall designs have made it possible to develop plant walls that are nearly indistinguishable from the real thing. Our faux living walls even mimic real plant movements. In addition to enhancing the overall aesthetic appeal of the environment, these plant walls are perfect for privacy and noise reduction. Once installed, they transform your space into a brilliantly green environment that radiates peace and serenity.
BOTH INDOOR AND OUTDOOR APPLICATION
One of the most beneficial features of artificial plant walls is they are highly adaptable. They can be used both indoors and outdoors, whichever is best suited for your specific use. Whether it's in the walkway, hallway, a commercial production floor, or a hotel reception area, artificial plant walls can complement any indoor or outdoor space. They also do not require water or sunlight to flourish. And if they happen to be put in a sunny location you will be pleased to know that they are fade resistant.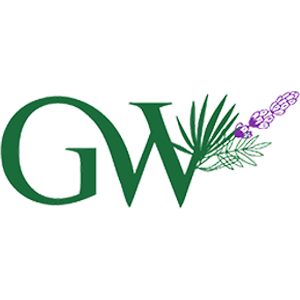 Contact Us to Discuss Installation Options
Whether you're looking for an office garden transformation, interior enhancement, or enhanced privacy and noise reduction, each of our Vistafolia Green Wall systems are a one-of-a-kind bespoke creation. If you're ready to discuss your custom installation options, contact us to schedule an appointment.