The popularity of artificial living walls in Southlake, TX and Westlake, TX continues to grow alongside rising drought concerns and the demand for more convenient, low-maintenance landscape elements.
VistaFolia artificial plant walls by Greener Walls are designed to provide projects of any size with ultra-realistic synthetic foliage the requires no maintenance requirements or irrigation systems.
VistaFolia brings the beauty of natural plant life into spaces where they would not be able to grow or be maintained with convenience. Unlike competing brands, our Southlake artificial living walls are not repetitive or fake looking. With our unique three-panel system, no installation that we complete looks the same as the last.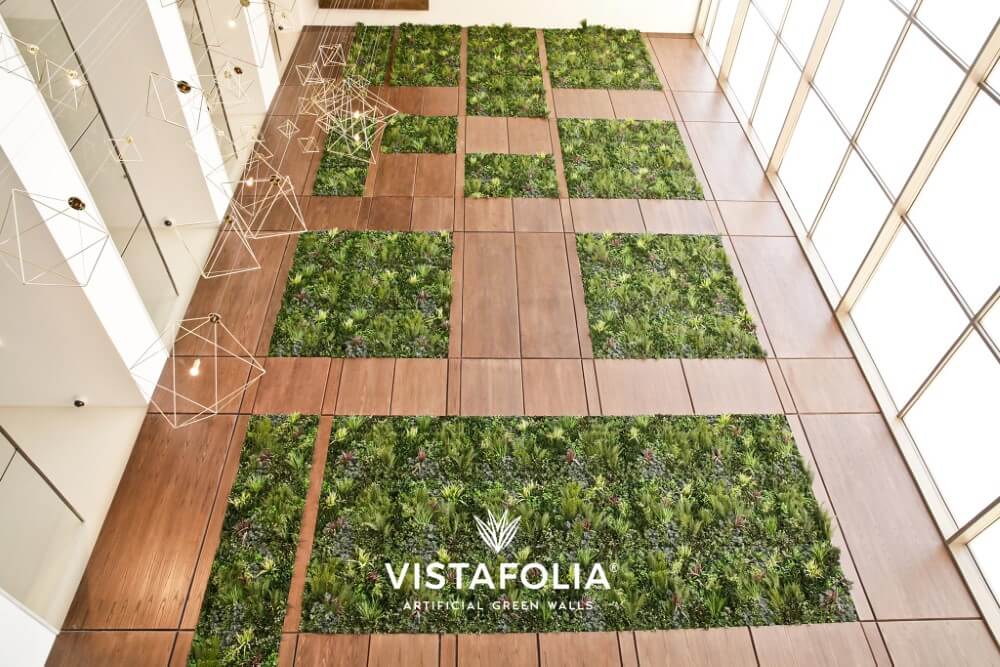 This ensures that every environment offers an unrivaled first impression and ultra-realistic appearance. In addition, VistaFolia green walls by Greener Walls are designed to provide a new method of enhancing privacy as well as offer additional sound insulation.
Hotel landscapes, rooftop lounge spaces, spas, restaurants, and multifamily housing facilities can be built with the most extravagant and ultra-realistic synthetic plant walls to provide color and brightness to any interior or exterior design.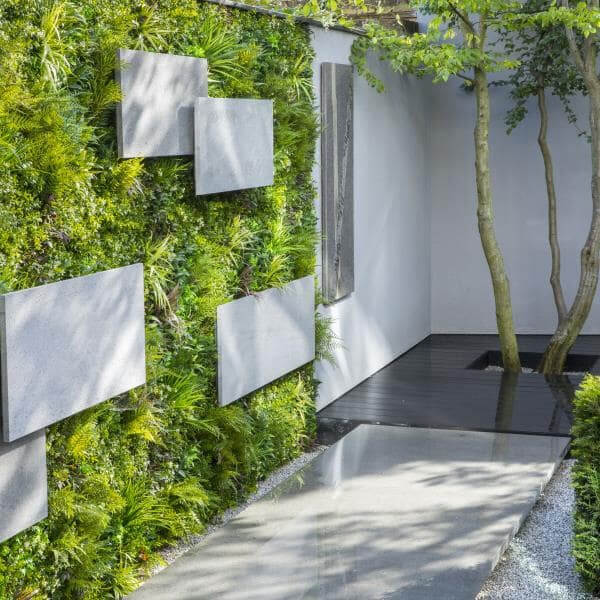 Customize your VistaFolia panels with 8 varieties of colored blossoms and foliage textures
Three-panel system for a natural appearance with no evident connections or repetition
Adaptable to overcome even the most complicated designs
Suitable for use in both indoor and outdoor settings
100% pure and UV-resistant color pigments that never fade
Zero maintenance or irrigation requirements
Easy to clean if needed
Helps to improve air quality and allows for natural air movement
Great for privacy screening and sound insulation
Fire rated and certified
Backed by 5-year warranty
Synthetic Green Walls in Westlake, TX
To maintain the immaculate and lush appearance of natural plants, continuous trimming and pruning is essential alongside expensive and messy irrigation systems that may leak or grow mold. VistaFolia artificial plant walls in Westlake, TX may only need periodic cleaning, providing you with a convenient way to dress empty wall spaces, cover unappealing pool equipment or street views and more. Regardless of the project size, VistaFolia greenery walls in Westlake, TX can take your design to the next level. Greener Wall customers have framed single VistaFolia panels to create living wall art, as well as use over 80 panels to decorate less aesthetically pleasing parking garage exteriors!
Furthermore, in this era of new normal, Westlake artificial plant walls help create more sanitary work environments as a result of their lack of maintenance. Our VistaFolia panels function as natural air filters, producing a more energizing work atmosphere that will improve the mental health and well-being of employees and guests. Perfect for conference rooms, hotel lobbies, spas, public restrooms and more.
Residential Applications
Entryways and hallways
Living rooms and dining rooms
Courtyards
Backyard pathways, walls, and fences
Kitchens
Outdoor patios
Bathrooms
Bedrooms
Garden areas
Penthouses
Commercial Installation
Commercial office spaces
Retail stores
Trade shows
Spas and pool sides
Resorts & hotel lobbies
Restaurants & bars
Casinos
Airports
Luxury apartment buildings
Parking garage designs
Photography and move backgrounds
Greener Walls is here to provide you with a customizable addition to your residential or commercial designs. We offer an assortment of interchangeable color and texture boxes that can help you evolve your synthetic green walls alongside seasonal design changes or color scheme modifications. Our color box options include Soft Lavender, Forest Flame, Spring Pink, and Delicate White. Furthermore, our greenery texture boxes include Lush Greens, Trailing Ivies, Trailing Buxus, and Large Grasses. Each VistaFolia panel can easily be installed and modified. Whether you're an architect, interior designer, landscape designer, general contractor, or home decorator, we can combine your unique vision with the most realistic synthetic foliage on the market. With VistaFolia from Greener Walls, you create awe-inspiring atmospheres that will leave lasting impressions on your guests.
Greener Walls ships VistaFolia panels throughout the USA and offers synthetic plant wall installation in Southlake, TX, Westlake, TX, and surrounding areas. For more information about VistaFolia, contact us today to schedule a free design consultation or estimate!